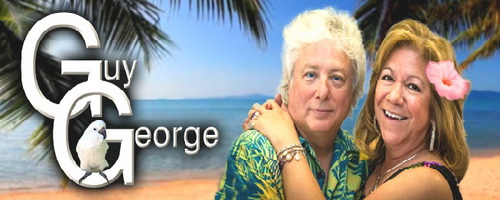 Guy George
Guy George, from Cleveland, Ohio (but now from the Port Orange, FL area,) is a rhythmic, melodic hammered dulcimer player with a definite jazz influence to his playing style. Guy comes from a background in jazz and performance on the saxophone, having studied at Berklee College of Music in Boston; honing his skills playing with many jazz influenced musicians in the Boston and New York area. He had settled outside Cleveland, Ohio but just recently has made Florida his home and presently plays hammered dulcimer, tenor, alto and soprano saxophones, flute, pennywhistle, steel drum, and keyboard. He has made his name in the dulcimer world as a performer, instructor, author/publisher and recording artist.
He tours throughout the United States and Canada performing and recording and teaching workshops on the hammered dulcimer, steel drums, and penny whistle. His teaching style is relaxed and fun, as he teaches tunes of many different genres and styles. In addition, he incorporates methods for more advanced practicing and playing techniques while simultaneously entertaining his students.
Guy has authored 13 books arranged for hammered dulcimer, steel drum, pennywhistle, and other instruments, which are distributed around the world through Gesani Publications, a company he and his wife, Sharrie, own and operate.
Sharrie George teaches and plays guitar, ukulele, and mountain dulcimer with her husband, Guy. She studied music at the College of Charleston in S.C. She and Guy teach and play music together for weddings, private parties and events, and at churches and festivals around the U.S.
Sharrie has taught guitar and ukulele at festivals such as Key West Dulcimer Festival, Kentucky Music Week, Common Ground on the Hill in Maryland, Memphis Dulcimer Gathering, WinterCreek Family Reunion in Oklahoma, and John C. Campbell Folk School in Brasstown, N.C., as well as co-hosting the Florida Gulf Coast Dulcimer Retreat with Bing Futch and Guy.
Website:
Guy George Website