Hard To Port Celtic Fusion Band
Hard To Port is a unique group of friends and musicians who have played together and separately in a variety of other groups for many years now - the group now pools their talents under the moniker of "Hard To Port" which is a Celtic Fusion Band.

Jenn Weidley is a singer/songwriter who has performed in Central Florida and up and down the East Coast area for many years. Performing in many venues including coffee houses, pubs, festivals and concerts, she has written a wide variety of Celtic inspired original and traditional songs and tunes. She was in the band JENRIC with her late husband Rick, the Central Florida Celtic Folk band Bardic Rose and the Irish Traditional Band Banished Misfortune. Her first Solo CD came out in 2007 and is entitled "Home with the Girls in the Morning". Jenn's latest CD is "A Momentary Echo" produced in 2012. In September, 2012, Jenn traveled west for the first time, to Sedona, Arizona and Southern Utah. Jenn, her partner Ron and percussionist Chuck Spano traveled to Ontario Canada in August, 2013 to perform in the Tall Ships Festival as the trio 'Hard to Port'. Jenn has written and arranged over 250 songs and tunes and is an accomplished guitarist, fiddler and Irish Whistle player. She plays and sings original songs, traditional ballads, pub tunes and sea shanties. When not playing and touring, Jenn is the owner/operator of Green Fiddle studio, an intimate studio which caters to the acoustic musician. Learn more about Jenn on her website at www.jennweidleymusic.com or find her on CDBaby.com!

Steve Hinksman started playing guitar at age 16 - a little old for some kids, but it really is never too late! He had dreams of heavy metal shredding, just like his favorite bands Judas Priest and Iron Maiden. Steve quickly found out that his short, stubby fingers were better suited to slower phrasing, and David Gilmour soon became a major influence. Neil Young's grungy solos and acoustic guitar approach provided guidance too. Steve joined Hard To Port after jamming a few times with the other members. He had seen Jenn and Ron play their unique blend of Celtic and singer-songwriter material, and they coaxed him to join in at a practice or two, and then play a couple of songs at a benefit. Influences are varied, although the Gilmour-Young sound is most obvious. Steve still listens to outlandishly heavy stuff (Meshuggah, Lamb of God, Periphery), ambient Kraut-Rock (Tangerine Dream), classic singer-songwriter material (Gordon Lightfoot, Beck's Sea Change), plus a little bit of Country (Luke Bryan) and a little bit of Rock 'n' Roll (Led Zeppelin), but the Progressive Rock sounds of Porcupine Tree / Steven Wilson are his mainstay.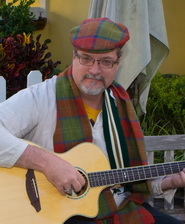 Ron Smykay got his first guitar as a high school graduation present from Elderly Instruments in East Lansing, near his home town, and had no clue what good fortune he had to have that store nearby. It took about 20 years to get past three chords and really figure out that tuning thing. But progress has picked up mightily since he started up with the Central Florida Folk Community. Five chords, two more guitars, a banjo and an electronic tuner, Ron is active in various Florida events - his song 'Extra Bagels' (on the FMFI CD) is partially inspired by real events. Bagels are provided on Friday; however, considerable liberties with the facts were taken for artistic effect. Having been on both sides of that long walk it affects the appetite either way.

Chuck Spano is a Florida-based percussionist who has had the good fortune to have played with some of the best musicians from around the world in a variety of genres, both here in the USA and overseas. He'll usually play with multiple groups, on a variety in instruments, at various festivals. His primary interest is in the realm of Traditional Celtic songs and tunes, especially "indigenous" arrangements and tunes/songs from Scotland and Ireland which seldom make it across the pond to America. Spano has taught the various percussion workshops at the Florida Folk Festival (and others) for the past many years and is especially interested in teaching beginners and playing for various dance groups as well as experimenting with a variety of percussive instrumentation in the Celtic fusion, Afro-Celtic, and New Age/Classical arenas. Chuck is also the musical director for the Ormond Beach Celtic Festival in April of each year (Ormond Beach, FL) and produced a concert series for over twenty years featuring national and international touring artists.